Riolo Orthodontics is one of the most experienced providers of lingual braces in North America; the number one provider of esthetic adult treatment in Seattle and the Pacific Northwest.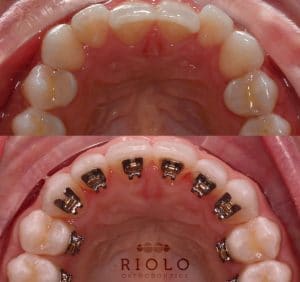 Dr. Riolo has been using lingual braces in Seattle since 2006. Dr Riolo wore lingual braces behind his teeth himself, so he understands lingual orthodontics from multiple perspectives. He is one of a handful of orthodontists in North America with extensive experience using braces behind the teeth. We have experience with multiple lingual systems and this allows us to choose the system that will best fit your individual need.  Our lingual braces are customized to each patient to maximize both comfort and efficiency.
Dr Riolo recognizes the need for a truly invisible treatment alternative for adult patients and has been providing customized orthodontic care using lingual braces for over 17 years . Today at Riolo Orthodontics lingual braces (braces behind the teeth) are used on about 75% of our patients.
Anyone who can wear conventional braces… can wear lingual braces!
We have used lingual braces behind the teeth to treat men and women ranging from the age of 13 to 70+. Anyone who can be treated with regular braces can be treated with custom lingual braces; you can make an appointment for an initial consultation so Dr Riolo can tell you if lingual braces are the right treatment option for you.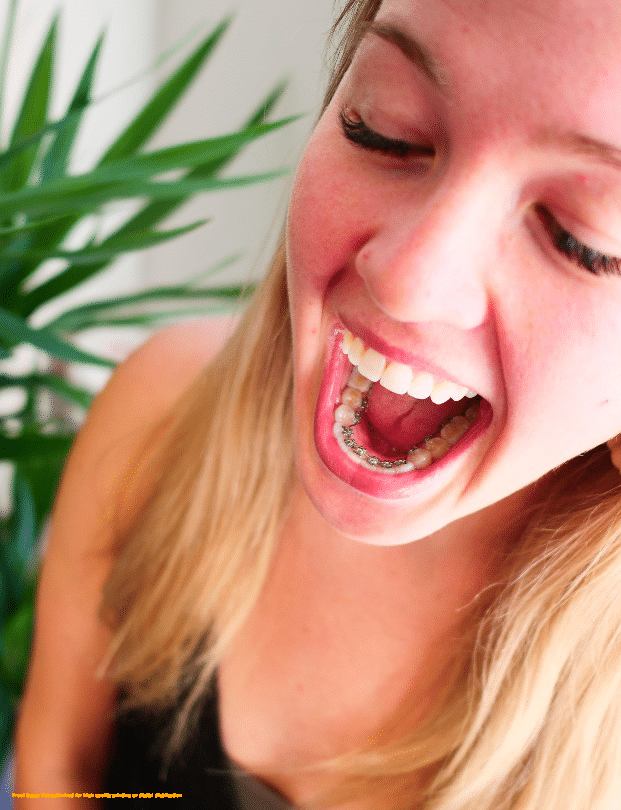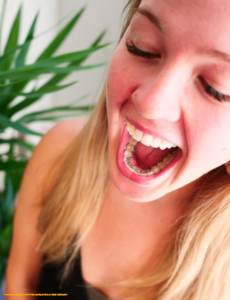 How to get started with braces behind the teeth (lingual braces)
We use many types of lingual bracket systems, tailored to the patients' needs.
The process for beginning orthodontic treatment using custom orthodontic braces is straightforward. When a new patient contacts our office we set them up with an initial consultation with Dr. Riolo. At their initial appointment, the patient is given information about the orthodontic problem and treatment options to address their chief complaint. The patient is also given the exact cost of treatment; we will check your insurance benefits.  During your initial visit and the subsequent treatment consult we will present all of the information you need to make your best treatment decision at the initial new patient consult.
During your first or second visits to our office we will gather all the orthodontics information necessary to develop and refine your orthodontic treatment plan.  This plan will include an orthodontic setup which is an exact representation of your teeth after your orthodontic treatment is complete. These initial orthodontic records consist of photos of the teeth and face, two digital x-ray images; a panoramic x-ray and a cephalometric x-ray and the digital models of the teeth that are acquired using digital intraoral optical scanner.  After the initial records are collected Dr. Riolo begins the process of developing the setup models. Once we have the initial setup developed, we sit down with the patient and discuss the setup and any possible treatment options. Frequently alternative setups are developed in order to determine the best course of action for the unique circumstances of each patient.
In order to fabricate your custom "Incognito" custom braces Dr. Riolo and the patient together develop a "digital setup." Frequently the patient's general dentist and other specialists are consulted when post orthodontic restorative work is planned (such as dental implants, crowns, or veneers). The original digital malocclusion model is used as a starting point and the setup is developed. We have precise control direction and degree of tooth movement with these custom appliances. The digital setup model is then used to design and manufacture the actual custom braces that are placed behind the teeth.
When the final fit of the teeth is established and the design of the wires and and customized brackets are finalized.  These wires and brackets are manufactured and integrated into a indirect transfer tray. This transfer tray is used in order to ensure that we have a precise bracket placement at the braces delivery appointment.
The actual bracket delivery is a surprisingly simple and painless procedure.  The brackets are literally "glued" to the back of the teeth using a special dental cement. After bracket delivery, the wires are place and instructions are given to the patient regarding care and maintenance of their new invisible orthodontic brackets.
Compared to Traditional Braces, Lingual Braces
Require few wire adjustments. This means less discomfort throughout treatment and fewer visits to the orthodontist
Deliver high-quality results in the most efficient way possible
Minimal speech interference for the first few weeks
Minimal discomfort
Faster, more efficient treatment
In our office, if you are a candidate for orthodontic treatment, you are certainly a candidate for lingual braces. Contact Dr. Christopher Riolo at Riolo Orthodontics today for your initial consultation.