Dr Riolo interest in cutting edge orthodontic technologies is long standing.  His has been involved in research for many years and his current interests involve custom orthodontic appliances and their use in maximizing the quality treatment outcomes while reducing treatment time.  We also have a special emphasis in esthetic orthodontic solutions for our patients.  We have invested significantly in cutting edge technologies such as intraoral scanning and ultra low dose CBCT focused field 3D imaging as well as the computer hardware and software to use these technologies to improve care for our patients.
Intraoral scanning technology
In 2013 Riolo Orthodontics received the first True Definition intraoral scanner on the west coast.  This revolutionary hardware can be seen in the figure below.  We currently own two of these incredibly accurate scanners.  The Tru Def scanner enables us to "scan" our patient rather than take traditional intraoral impressions using impression material and trays.  These scans are used to obtain digital models  in order to create custom braces behind the teeth "Incognito braces"; truly invisible orthodontic treatment!
We also use the digital models scanned in our office to record the the bite before treatment.  The models that are created before treatment can then be compared to the digital model made after the teeth are straight.  These models are also used to fabricate appliances such as retainers.  These orthodontic appliances can also be ordered and fabricated using the 3-D model data from third party laboratories.
Riolo orthodontics has the ability to produce more accurate digital models without messy PVS impressions using intraoral scanning.  These digital impressions serve as an initial record of the patients malocclusion, can be used to produce diagnostic digital setups as well as order orthodontic appliances including custom Incognito braces behind the teeth and Invisalign.
More accurate—and more consistently accurate—than leading systems on the market, the powerful 3D-in-motion video technology delivers full arch scanning in phenomenal detail. We can display digital impressions immediately for analysis and treatment planning, with secure cloud-based storage of unlimited patient scans and access to open STL (three-dimensional) files that can be readily imported into a variety of digital workflows for increased office productivity and efficiency.  These efficiencies translate to time savings and improved treatment outcomes for our patients!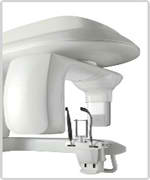 Digital Radiographs
3D focused field imaging has become an integral part of orthodontics. Custom brackets like the Incognito bracket system may soon be contructed from 3D imaging data like the data produced from the Kodak 9000c 3D.
Riolo Orthodontics uses the KODAK 9000 3D System to deliver an unprecedented level of detail, providing anatomically correct images with 1:1 measurements that allow us to confidently manage our patients orthodontic treatment.  With this 3D system's focused field of view, you not only receive all the angles and slices you need, you get the highest resolution images you can imagine using the lowest possible x-ray exposure. The KODAK 9000 3D System's focused field of view limits radiation to a specific region of interest, so our patients are exposed to the lowest possible radiation dose— in many cases less exposure than a standard panoramic view.  Our KODAK 9000 3D has Cephalometric imaging abilities including revolutionary one-shot technology, cephalometric image acquisition takes less than a second—thereby reducing exposure time and the risk of retakes due to patient movement.
With the KODAK 9000C 3D System, we can perform a wider range of diagnoses and treatments right in our office, rather than referring patients to imaging centers. Reduce multiple visits, prevent rescheduling issues, and enhance patient care with three versatile imaging abilities right at your fingertips: panoramic, cephalometric, and focused field 3D imaging.
Whether we use the 2D or 3D program, positioning patients is easier than ever allowing us to capture images while patients are sitting or standing.
We are excited to now have the ability to now take virtually any radiograph conceivable during orthodontic treatment without having refer our patients to an outside imaging center, saving both time and money for our patients.
ORTHO II – Database Management Software
ViewPoint from Ortho2 is more than comprehensive practice management. With imaging, communication capabilities and a collection of time-saving tools, the independent leader in orthodontic practice management is also easily the leader in value. This software helps us to schedule your appointments, track you treatment and progress, and assists us to make your appointments more timely and productive. With Ortho2's Viewpoint, we can store exact images of patient statements, insurance forms, letters, or literally anything we wish to scan or capture by printing. This information is easily accessible should our patients request an X-ray or a current statement be sent to them electronically, or to their general dentist.
PRECISION BRACKET PLACEMENT
Custom Precision Braces are preferred by Dr. Riolo to treat his patients, we employ a custom setup of the conventional orthodontic brackets which result in increased precision in bracket placement.  Traditional bracket placement involves the orthodontist hand placing each bracket directly in the mouth. Accurate direct bracket placement is very difficult if not impossible for even the most experienced orthodontist. Precision bracket placement has been an exciting advancement in orthodontics. It has great benefit to the patient as it improves patient comfort, reduces the amount of time in the dental chair, improves the accuracy of bracket placement, and reduces treatment time.  Despite these advantages only 10% of orthodontists practice precision bracket placement. It requires a number of technically difficult laboratory procedures.
To ensure accurate bracket placement and reduce treatment time, our office offers the precision bracket placement technique. Rather than being placed directly in the mouth, our brackets are mounted in the precise location, on a patient's diagnostic models to ensure accuracy. A special tray is fabricated to transfer the brackets to the patient's teeth in their precise location.  The brackets are then indirectly bonded on to the patients teeth. This process ensures accurate bracket placement.  Precision bracket placement ensures improved patient comfort, reduced time in the dental chair, improved accuracy of bracket placement, and reduced treatment time.
Dr. Riolo earnestly cares about your teeth and oral hygiene.  At Riolo Orthodontics, we apply a sealant on each and every tooth before applying any brackets to your teeth. Ortho Solo Seal contains fluoride to help strengthen teeth and protect each tooth from cavities.  This extra layer of protection, helps to guard against plak build up and tooth decay. It is removed at the end of treatment when the brackets are taken off.  Brushing is still, and always is essential in maintaining good oral hygiene. With Ortho Seal, we can offer an additional safeguard to shield your teeth while your braces are on at no extra cost to our patients.